Guys, the time is almost here; as the wind gets chillier and clothing layers multiply, we're edging ever closer to the opening of the Christmas markets!
I'm sure that many of you are not ready for the appearance of wooden, candy-adorned sheds and German Christmas carols in Broadmead, but I have to say that I'm ridiculously excited. From 7th November until 22nd December you can have your fill of Currywurst, hog roast and cheesy music – be sure to ask for rum or amaretto in your mulled wine too, and thank me later.
Steak vs. Raw
Now on to this month's various food events. The first weekend in November is looking espcially busy with Halloween and Day of the Dead events, I'm particularly excited by the Day of the Dead Party happening on Christmas Steps on 1st Nov, featuring Mexican street food, a margarita stall, pumpkin carving and craft stalls.
Like your steak to come with something a bit stronger than wine? 3rd November is Steak & Bourbon Night at Milk Thistle – sample 3 bourbons alongisde 3 courses of expertly prepared food in their quirky attic dining room. Tickets are priced at £35 and available from their website.
Tuesdays are no longer a dead day in the week, with events taking place at opposite ends of town on the 4th november – first up is a Tasting Menu Event at The Gallimaufry; it's the first event of this kind that they've put on, and 6 courses plus extras for £30 seems like a good deal to me!
Yurt Lush are also hosting the first of their Riverford Supper Clubs, with the opportunity to hear the founder of Riverford talk about their produce and the menu, followed by three courses of tasty food – it should be a great chance to hear about local and sustainable food, whilst meeting some like-minded folk to enjoy some good grub.
The Famous Royal Navy Volunteer are getting in on the gastro action with their own dining event on Wednesday 5th November – they'll be matching 3 courses of food with some craft beers from their excellent range, so this should be a good night out for beery gourmands – check out the menu on their website.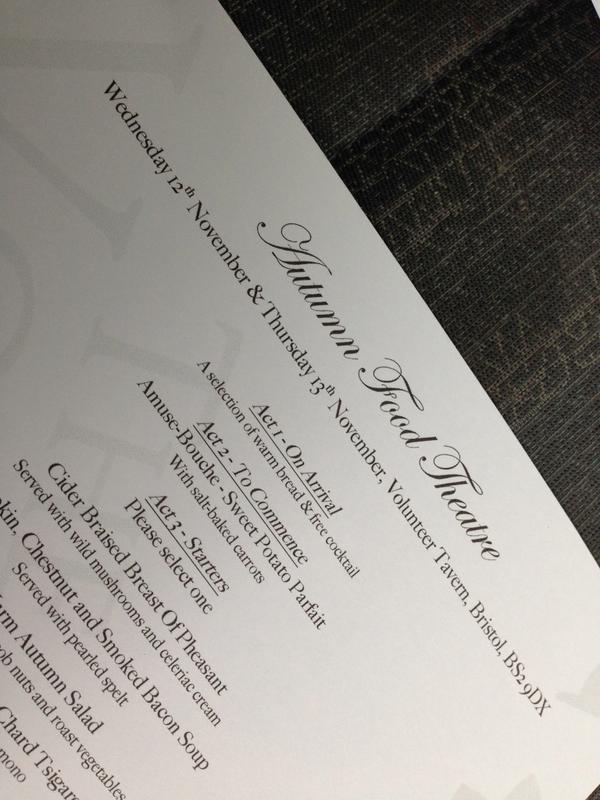 Wednesday 12th and Thursday 13th November see the arrival of the Autumn Food Theatre at the Volunteer Tavern – I attended the last one and the half of lobster I ate has to be in the top 3 things I've eaten this year. Excellent stuff.
Seafood fans will be pleased to know that 5th-8th November sees the return of the Oyster Festival to Source in St Nicks Market – so pop along to sample their special menus or try one of up to 12 different types of oyster – who knew there were so many varieties?
If you're keen to get a taste of some of Bristol's best pop ups, Asia Pop! are doing a supper club at Paintworks on Thursday 13th – they'll be laying on 5 courses of their most popular street food dishes and curry, along with a complimentary Kingfisher beer, all for £22.50. It's BYO too, hurrah!
Purveyors of the arguably the best vegan food in town (and definitely the most mouth-watering Twitter feed) The Spotless Leopard are doing their own pop up dinner event in Clifton on Friday 21st – 3 courses for £20, and the menu looks very exciting!
Finally, if you're in the mood for a bargain, head along to The Woolly Cactus by Bristol Bridge on Friday 28th for their burrito giveaway – you can get a 12inch wrap for just £2.50!
Say hello to…
Another busy month for arrivals on the Bristol food and drink scene; this week sees the opening of sourdough pizza restaurant Flour & Ash on Cheltenham Road, as well as the much anticipated launch of The Stock Exchange Bakery on St Nicholas Street.
St Nicholas Street is now one of the most exciting streets in central Bristol for munch – with Bagel Boy, Playground Coffee House and Pata Negra already in situ, and a new permanent home for Chomp to arrive soon too!
Baldwin Street is getting its fair share of newbies too, with the arrival of snazzy Italian restaurant Aquila earlier this week, as well as rumours of a new craft beer bar coming along soon…
Speaking of new bars, have you been to Kongs of King Street yet? As well as a good selection of beers and ciders on offer, the most exciting thing about this bar is that it has a ping pong table and arcade games – perfect now that the weather won't allow us to stand on the cobbles outside for much longer!
The cocktail scene of Bristol keeps expanding, and as of Friday 7th there will be an extra place for you to wet your gills, as The Bristologist brings their own style of cocktails and small plates on slates (AHEM.) to Corn Street.
We should also have more information about the new Hermanos and Souk Kitchen in Clifton soon – so keep an eye to their respective websites for developments!
Dates for the diary:
Thanks for stopping by – let me know if I've missed off any food or drink events, or if there's anything in particular you're looking forward to, or even if you made a nice dinner recently and want to tell me about it – I'm all ears.
If you liked this, you'll probably like…